Central Park New York City
Central Park – Must See Tourist Attraction in New York City
Central Park – Top 10 Attractions in NYC, New York, USA
Home » Attractions » Manhattan » Central Park » info
Central Park
New York Central Park
Central Park is a large public, urban park (843 acres or 3.41 km²; a rectangle 2.5 miles by one-half mile, or 4 km × 800 m) in the borough of Manhattan in New York City, USA. Central Park's appearance in many movies and television shows has made it one of the world's most famous city parks.
Central Park is bordered on the north by Central Park North (Cathedral Parkway west of the park and 110th Street east), on the east by Fifth Avenue, on the south by Columbus Circle and Central Park South (59th Street east of Fifth Avenue), and on the west by Central Park West (Eighth Avenue south of Columbus Circle).
The park was designed by Frederick Law Olmsted and Calvert Vaux, who later created Brooklyn's Prospect Park. While much of the park looks natural, it is in fact highly landscaped and contains several artificial lakes, extensive walking tracks, two ice-skating rinks, a wildlife sanctuary, and grassy areas used for various sporting pursuits, as well as playgrounds for children. The park is a popular oasis for migrating birds, and thus is popular with bird watchers. The 6 mi (10 km) road circling the park is popular with joggers, bicyclists and inline skaters, especially on weekends and in the evenings after 7:00PM, when automobile traffic is banned.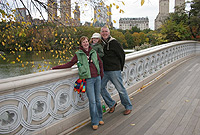 Central Park and Manhattan's Uptown – 2 Hour Private Photo Tour
Make your memories last a lifetime! Take a 2 hour private walking tour of Central Park and Manhattan's Uptown; discover charming tree-lined streets and historic brownstones of the Upper West side, while your experience is captured in beautiful color photographs.
---
Activities in the park
Sports
Central Park is perhaps cherished most by athletes. The Park Drive, just over 6 miles long, is a haven for runners, joggers, bicylists, and inline skaters. Nearly every weekend, races take place in the park, many of which are organized by the New York Road Runners. The New York City Marathon finishes in Central Park outside Tavern on the Green. Many other professional races are run in the park, including the recent USA Men's 8k Championships. A long tradition of horseback riding in the park is kept alive by the one remaining stable nearby, Claremont Riding Academy.
Entertainment
Each summer, the Public Theatre presents free open-air theatre productions, often starring well-known stage and screen actors, in the Delacorte Theatre. Most, though not all, of the plays presented are by William Shakespeare, and the performances are generally regarded as being of high quality since the start in 1962.
The New York Philharmonic gives an open-air concert every summer on the Great Lawn and the Metropolitan Opera presents two operas. Many concerts have been given in the park including the Simon and Garfunkel reunion; Diana Ross, 1983; Dave Matthews Band, 2003. Since 1992, local Singer-songwriter David Ippolito has performed almost every summer weekend to large crowds of passers-by and regulars, including visitors from around the world, and has become a New York icon. Often he is simply referred to as "That guitar man from Central Park."
Also each summer, City Parks Foundation offers Central Park Summerstage, a series of free performances including music, dance, spoken word, and film presentations. SummerStage celebrated its 20th anniversary in 2005, having welcomed emerging artists and world renowned artists over two decades, including Celia Cruz, David Byrne, Curtis Mayfield, Ladysmith Black Mambazo, and Nobel Laureate and Pulitzer winner Toni Morrison.
The numerous portrait artists who work in Central Park have been interviewed and documented by Zina Saunders as part of her Overlooked New York project.
Children
In addition to its 21 unique playgrounds, Central Park offers dozens of activities for children, including performances by master puppeteers at the historic Swedish Cottage Marionette Theatre. The famous Central Park Carousel has thrilled children since the original one was built in 1870.
Central Park and New York Neighborhoods – 4 Hour Private Photo Tour
Departure Dates: Daily
Departure Point: Tours depart from Times Square
If meeting at your hotel is desired, pick-up is provided from the concierge desk
Departure Time:4 hour tours: 8:30am and 1:30pm
Visit this city's most beloved and scenic attractions while your personal photographer capture your event in beautiful color photos in this 4 hour private tour. You take in the culture, landmarks, and enthusiasm of New York, plus the remarkable photos you receive will make your New York visit truly unforgettable.
---
Address
The Central Park Conservancy
14 East 60th Street
New York, NY 10022
212-310-6600
Hourss
Operation Hours: 6:00 AM to 1:00 AM
The Park Drive is closed to vehicular traffic
Weekdays: 10:00 am – 3:00 pm and 7:00 pm – 7:00 am.
Weekends: 7:00 pm Friday – 7:00 am Monday
Holidays: 7:00 pm the night before – 7:00 am the day after.
Speed limit 25 mph
Central Park Posters

Central Park (1961) Poster
Buy at AllPosters.com


Aerial View of Central Park, NYC Photographic Print
Ball, David
Buy at AllPosters.com


A Ride Through the Park Photographic Print
Dw Labs
Buy at AllPosters.com


Central Park, New York City, New York Photographic Print
Adams, Peter
Buy at AllPosters.com
Directions
The Park can be reached by subway on the East Side on the number 4, 5, 6 trains and the 1, 2, 3, 4 buses on 5th Ave.
On the West Side you can take the A, B, C,and D trains and the M10 bus.